Featured
Turn on "Do Not Distrub" for certain period. Only for Sierra and High Sierra.
Weibing Chen (@weibingchen17)
Featured
Lists available updates from the Mac App Store using mas-cli (https://github.com/argon/mas). Based on brew-updates.1h.sh
iosdeveloper (@iosdeveloper)
Featured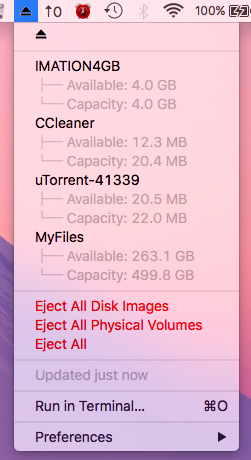 Ejector is a plugin for BitBar that enables you to eject all mounted disk / drive / installers / USB connected drives and volumes instantly.
Carlson Orozco (@carlsonorozco)
Fancy having your plugin featured? Get in touch.
Looking for something specific?